6 Challenges faced by K-12 Schools & How to Solve Them Easily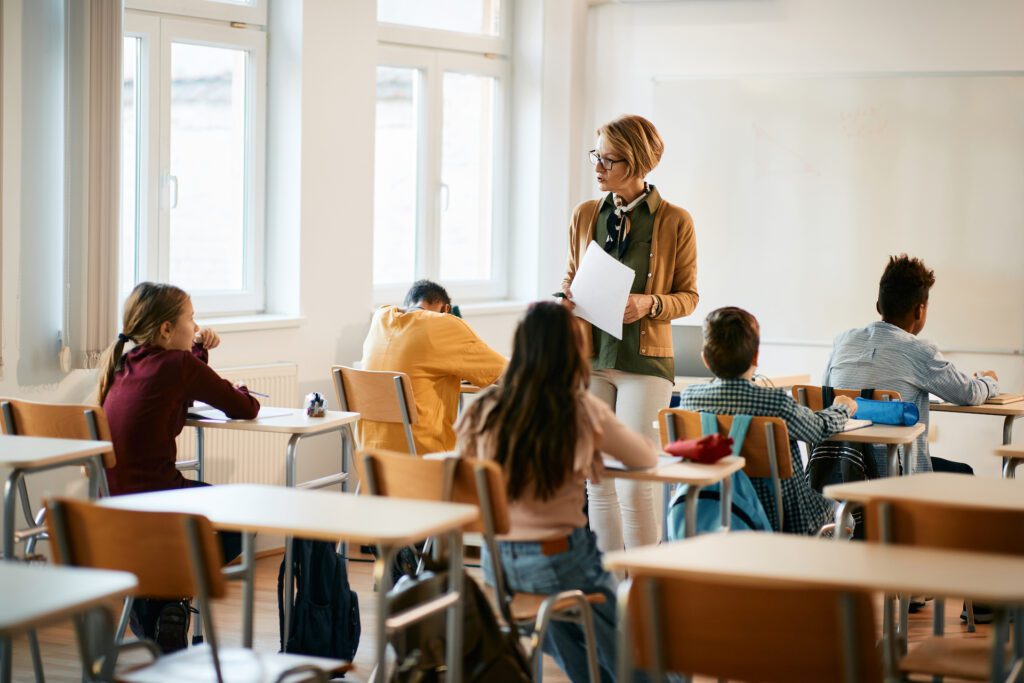 Teachers deserve to be kept away from distractions so that they can dedicate as much of their time to their students as possible. Schools can continue to ensure this by streamlining traditional processes so that they aren't bogged down by unnecessary work. Better technology integration enables schools to augment their operations to ensure that the classroom experience remains productive for teachers and students.
Curious to find out how you can tackle the issues that are niggling away at your teachers? Read on to find out.
The Manual Crunch
Teachers of this era carry heavy responsibilities and are expected to be all-rounders. Beyond academic instruction, students turn to them for guidance on well-being matters and they are also the first line of intervention for many of their students. However, holistic educators need data. This can be data acquired through surveys or even internet activity through school-issued devices. Whatever the case, historical data helps teachers identify underlying issues and areas of intervention quickly.
 So why is data an issue for teachers? The answer lies in 3 key areas – data gathering, data input and data management. As of now, many schools lack a centralised system for collecting useful data. For example, you may find yourself having to manually administer several SEN surveys per term. Teachers may then need to input data into weekly Excel Sheets which can not only get lost when you email them between staff but are also difficult to maintain. Adopting technology can save your teachers precious hours of hammering away at their keyboard while ensuring that precious information remains flexible and accessible.
Facilities Booking
Imagine booking a computer classroom a week in advance only to find out on the day itself that it was a scheduled venue for another class. Most of us have been there on the receiving end as students ourselves. It is almost always the result of communication errors and having no means to check booking statuses in real-time.
This is where our facility booking system can come in handy. A system that's tailored for schools can automatically account for existing/overlapping classes by integrating teachers' timetables. Isn't that great? Now, teachers can simply book from existing slots without having to worry that other teachers would be using them.
Tracking Professional Development
Teachers are enrolled in various courses to improve their competencies and keep them up-to-date with the leading best practices. Some even take up extra courses, be it to meet allocated quotas or for professional development. It can get quite difficult to keep track of their learning developments or micro-credentials.
That's why having a single platform to manage teachers' development can be really helpful. Teachers should be able to browse learning opportunities and update their enrolment and completion statuses in one single hub. To cap this off, the ideal development platform should also foster an environment that encourages teachers to share knowledge artefacts and be proactive in learning.
Slow & Inaccurate Student Interventions
Traditionally, teachers went about measuring student wellbeing by first adapting validated frameworks and then administering questionnaires or items manually. This process can prove to be especially time-consuming and tedious. It might also delay intervention.
Aside from obvious issues such as paper waste, we've also discussed that teachers need to manually input the results. This problem is exacerbated by the fact that the students taking the questionnaire may not be truthful or motivated at that point.
So, what can schools try? First on the agenda should be a streamlined method to monitor students' well-being indicators automatically. Take a page from our student mastery portal – students are given a space safe to pen their thoughts and emotions. They also complete regular mood logs which help monitor their psychological and emotional well-being over longer periods.
Most importantly for teachers though, it saves time from manual results analysis and data collection. Teachers can administer SEN assessments on the fly and focus on better supporting the students that need it most through the data.
Relief Planning
Teacher relief organisers are never happy to hear a teacher putting in a last-minute absence notice. Not only do they have to report to school early, but they also scramble to find available teachers that are capable of teaching the class. In the rush, it is often challenging to ensure that the allocation of relief duties is impartial. For instance, some may be unintentionally tasked with disproportionately more relief duties if the absent teacher was from a thin department.
Automating this task can save the relief committee time and at the same time keep duty allocations impartial. Our Relief Planning System for example takes into consideration a teacher's suitability and maximum workloads to ensure relief duty allocation remains fair and productive for the substituted class. You also get to keep the morale in your departments high since there'll be no more complaints of unfair duties!
Readable Timetables
Don't you just hate it when your timetables are a mess? When you introduce cross-stream mixing, it can get even more convoluted and harder to read.
Fret not. Our personalised timetable solution digitises the timetable creation process for you. Customise your school's timetables with us and populate the different teaching groups with ease. Send digital copies to students so that they will always have their personalised timetables at the tip of their fingertips. With technology, your timetables are always accessible and at the same time, pleasant to read!
Conclusion
In a nutshell, those were the 6 quick ways technology can reimagine old and tired school processes. How are you coping with the challenges within your school?